Looking for the ideal gift to surprise your loved ones this holiday season? Look no further! We have the perfect gift idea that will bring joy and delight to any coffee lover. Whether they enjoy a rich and bold espresso or a smooth and creamy cappuccino, our selection of coffee products is sure to satisfy their caffeine cravings.
For the coffee connoisseur who loves to brew their own coffee at home, an electric kettle is a must-have. Our electric kettles are designed to heat water to the perfect temperature for brewing the best cup of coffee. With precise temperature control and rapid boiling capabilities, they can enjoy a hot and delicious cup of coffee in no time.
No coffee brewing experience is complete without a high-quality coffee grinder. Our coffee grinders are expertly crafted to grind coffee beans to the perfect consistency, ensuring a fresh and flavorful cup of coffee every time. From coarse to fine grind settings, they can customize their coffee to suit their taste preferences.
For those who prefer a more hands-off approach to brewing coffee, our coffee brewers are the ultimate gift. With advanced brewing technology and intuitive controls, our coffee brewers make it easy to brew a perfect cup of coffee with just the touch of a button. From single-serve options to full carafe capacity, there's a coffee brewer for every coffee lover.
Gift cards are a fantastic option for those who want to give the gift of choice. With our gift cards, your loved ones can explore our wide range of coffee products and choose their favorites. They can indulge in our premium coffee blends, experiment with different flavors, or even try their hand at brewing their own coffee creations.
At Brewtus Roasting, we believe that coffee is more than just a beverage. It's an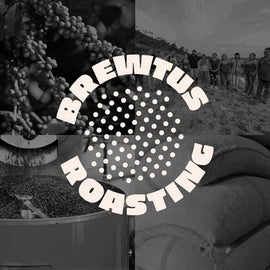 experience that brings people together, sparks creativity, and ignites passion. That's why we are dedicated to providing the highest quality coffee products that enhance the coffee journey for every coffee enthusiast. Consider giving the gift of our Roaster's Choice coffee subscription. 
So this holiday season, give the gift of exceptional coffee. Whether it's a gift card, an electric kettle, a coffee grinder, or a coffee brewer, you can't go wrong with our selection of coffee products. Your loved ones will thank you as they savor each sip of their perfectly brewed cup of coffee.
Make this holiday season extra special with the gift of coffee. Shop now and spread the joy of exceptional coffee!